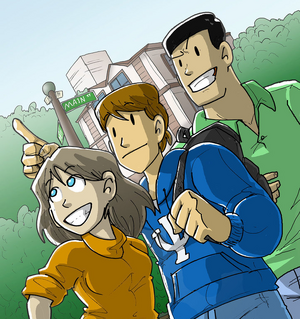 Roomies!
 is the first official series of strips in the
Walkyverse
, and originally ran from 1997 to 1999. It began publishing in Indiana University's 
Indiana Daily Student
newspaper on September 10, 1997. Simultaneously, it was thrown up on the web onto a Geocities site, making it one of the earliest webcomics, long before the term "webcomic" itself even hit widespread use.
Like Dumbing of Age, Roomies! is a college story set at Indiana University. Unlike Dumbing of Age, it focuses chiefly on Danny and Joe as the titular roommates. 
Ad blocker interference detected!
Wikia is a free-to-use site that makes money from advertising. We have a modified experience for viewers using ad blockers

Wikia is not accessible if you've made further modifications. Remove the custom ad blocker rule(s) and the page will load as expected.