Jonathan Brown

He's in there somewhere
First Appearance:
Joyce and Walky! March 2010 (Subscriber-only strip)

Relatives:
Hank Brown (father), Carol Brown (mother), Joyce Brown (sister), Jocelyne Brown (sister), Jordan Brown (brother), Justin Brown (brother), Jared Brown (brother), Bobby Walkerton (nephew)
Jonathan Brown is the oldest of Joyce Brown's siblings in both the Walkyverse and Dumbing of Age.
John was conceived when his parents were still in college. By all accounts, the pregnancy was unplanned, and his mother dropped out of school as a result.
Despite what can only be described as tremendous pressure from Carol Brown, Jonathan does not seem to have married or fathered any children.
He attended his Joyce's wedding to David Walkerton.
Jonathan was first mentioned in It's Walky!, and shown in a Brown family portrait. However, the strip doesn't identify which brother is which.

Willis later matched faces to names on tumblr.

[1]

The Brown siblings all attended Joyce and Walky's wedding, but none of them were identified by name in the panel except Jocelyne.
Like all of his siblings, his first name starts with the letter "J."
Dumbing of Age
Edit
Jonathan Brown, sometimes known simply as "John", is the eldest Brown sibling. So far, not much is known about him, other than that he is married. It is not known if his birth still resulted in his mother leaving college, as it did in the Walkyverse.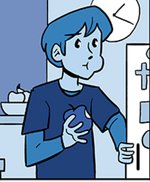 Just Hangin' Out With My Family
Edit
Though John was not present for Freshman Family Weekend (something about being "too married"), he was mentioned several times.
Jonathan says that he is married, though it is implied that he isn't really.

He got married a year ago (DoA time) in India, but Joyce has never met his wife. They apparently go on quite a few church missions together. [

Citation needed

]

He seems to like apples.
He likes the name "Jacqueline" despite its connection to the Kennedy family, and suggested it as a name for his little sister Joyce.
His first physical appearance in DoA has been in a flashback in a Patreon-only bonus strip.
References
Edit
Ad blocker interference detected!
Wikia is a free-to-use site that makes money from advertising. We have a modified experience for viewers using ad blockers

Wikia is not accessible if you've made further modifications. Remove the custom ad blocker rule(s) and the page will load as expected.