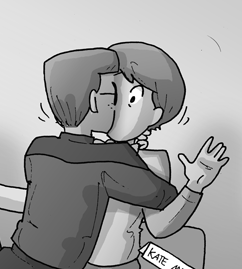 Kate Mulgrew (born April 29, 1955) is an American actress most famous for her role as Captain Janeway on Star Trek: Voyager. Certain members of the Star Trek fandom appear to resent her for this
Kate Mulgrew was a guest at an Indiana comic convention. Ruth and Howard Lesse were also attending said convention, where Howard planned to wave around a "Janeway Sux" sign, as Voyager "completely destroyed and ruined the original series" and to impress other nerds. While at a Star Trek panel with Johnathan Frakes she was rushed and kissed by a Howard, showing that his hate for her was really just Perverse Sexual Lust.
External links
Edit
Ad blocker interference detected!
Wikia is a free-to-use site that makes money from advertising. We have a modified experience for viewers using ad blockers

Wikia is not accessible if you've made further modifications. Remove the custom ad blocker rule(s) and the page will load as expected.