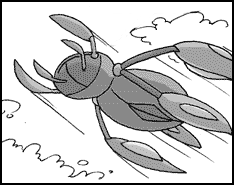 The
Tarantuship
was one of several pieces of
Martian
technology seized by
Head Alien
from the
Martian Embassy
in
It's Walky!
.
Similar in design to the Tarantuguns, the Tarantuship served as Head Alien's personal transport for some time. It played a prominent role in the Seventh Power storyline, where it fought a high-stakes aerial battle with Squadron 128's SEMMEcraft.
Ad blocker interference detected!
Wikia is a free-to-use site that makes money from advertising. We have a modified experience for viewers using ad blockers

Wikia is not accessible if you've made further modifications. Remove the custom ad blocker rule(s) and the page will load as expected.